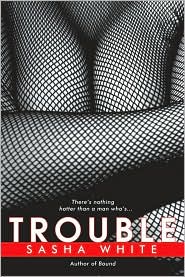 Title:
Trouble
Author:
Sasha White
Publishing Date:
2007
Genre:
Contemporary/Erotic
Rating:
B+
Sensuality:
Burning
Samair Jones finds herself at a crossroads in her life. Fed up with her job, her boyfriend and herself for trying to be someone she is not, she throws caution to the wind and starts over. She moves in with her old college friend Joey, who is a dancer for club Risque. As Samair is dancing in the club, she catches the club owner's eye. After some heavy flirting she tells him that she is looking for someone to fulfill all her sexual fantasies. Valentine Ward, never one to back away from a challenge, picks up the gauntlet.
Samair all her life has tried to be someone she isn't. Her family is very conservative and her parents have certain expectations when it comes their children. Samair has dreamed of having her own line of clothing ever since she was young. Her family would never understand or support her in this endeavor. However, Samair is sick and tired of being someone who she isn't. She is tired of trying to please everyone else and is now going to live for herself. I love that this book isn't just about fantastic sex (although, that is an added benefit), but more about Samair accepting who she is and loving herself for it. It's a motivating message without being overly preachy.
The characters were well drawn and likable. Joey, Samair's roommate has a secondary romance with a bouncer from the bar. It was enjoyable to read about Samair starting up her own lingerie business and the steps she took. I also liked how the author slowly showed Val go from their relationship initially being about sex to developing into something more meaningful for him. I was pleasantly surprised by
Trouble
. It was a fast, entertaining read.
*Just a side note*
I totally hate the cover of this book. Yuck, yuck, and more yuck. There is no way in
HELL
, you could get me to walk around with this book in public. Thank God for ereaders, right?
Here is what others had to say:
My Thoughts on Nothing Much at All
Dionne Galace - It's not Chick Porn
Laurie's Laudanum