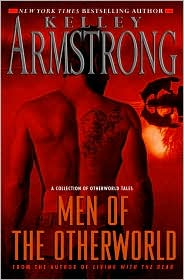 Title:
Men of the Otherworld
Author:
Kelley Armstrong
Publishing Date:
January 2009
Genre:
Urban Fantasy
Rating:
A
Sensuality:
Warm
Men of the Otherworld
is a collection of stories that Kelley Armstrong has published on her website over the years, that relates to her Women of the Otherworld series. These stories all revolve around Jeremy, Clay and their pack. Now I usually am not a big fan of anthologies, but
Men of the Otherworld
is quite different from most anthologies out there. First of all, all of the stories are written by Kelley Armstrong and secondly these stories all revolve around the same set of characters. They flow beautifully together and it really reads more like one long story as opposed to four short stories.
The first story
Infusion
, feels like a prologue at the beginning of a novel. It is about Jeremy's father, Malcolm and how Jeremy came to be in this world. There is a mystery involving the identity of Jeremy's mother. She was another magical creature, but which one is unclear. This story sets up the relationship that Jeremy and Malcolm are to have later on in the other stories.
The second and third story really blend very well together and almost read like one. They are about how Jeremy finds a young, 7 year old Clay and how he slowly introduces Clay back into society and more importantly, the pack. But not only is it about Jeremy and Clay, it is about the other members of the pack and how Jeremy evolves and grows to eventually becomes Alpha. These stories are both narrated by Clay in first person point of view. The reader truly gets a strong impression of Clay's personality. His drive and determination are there, as to be expected, but he also has a subtle sense of humor that is frank and refreshing. I found these two stories to be absolutely fascinating and superbly written.
The last story
Kitsunegari
, is narrated by Jeremy and feels like the perfect ending to this wonderful collection of stories. Jeremy is with Jamie in New York for one of her shows and here he finally discovers what type of being his magical mother was. It is short and sweet, but beautifully wraps up the mystery surrounding Jeremy's ancestry. Kelley Armstrong plans to release another collection of books sometime in 2010.
Here is what others had to say:
Books, Books and More Books
Renee's Book Addiction
Urban Fantasy
SciFiGuy.ca