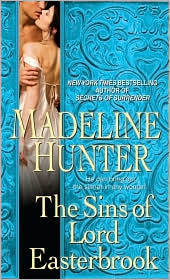 Title:
The Sins of Lord Easterbrook
Author:
Madeline Hunter
Publishing Date:
January 2009
Genre:
Historical
Rating:
B
Sensuality:
Hot
The Sins of Lord Easterbrook
is the fourth book of Madeline Hunter's Rothwell Series. Madeline is one of my favorite authors and this is a wonderful series. In this book Christian, Marquess of Easterbrook discovers that Leona Montgomery is now residing in London. He first met her seven years ago in China, while escaping his father and his duties. Leona's family were English shipping merchants involved in trade with India and China. After discovering some unsavory things about the shipping industry and all but losing his life, Christian came back to England. He never forgot Leona.
Leona is on a mission to help her brother get the contacts he needs to keep their family's shipping business afloat. She has another ulterior motive and that is to find out what was truly going on between her father and Christian all those years ago. Unfortunately, she still has feelings for Christian and can't seem to keep her distance.
Christian is an unusual character in that he can sense other peoples' emotions. He can tell quite accurately how another person feels about him and whether or not they are telling the truth. This peculiar trait can be both a blessing and a curse. I found his struggle with this gift very compelling. He tends to distance himself from others and remain secluded. Leona is one of the few people whom he had difficulty reading and it's one of the reasons for why he is drawn to her and hasn't forgotten her all those years.
The Sins of Lord Easterbrook
has a more serious tone to it than other books. It deals with some very hard subject matter, such as heroine addiction. The characterization was solid. Christian stood out the most, but Leona was able to hold her own. The mystery surrounding the shipping industry was well done and maintained a satisfying pace. It had a good balance of action and introspection. All around this was a good solid read.
Here is what others had to say:
The Good, The Bad, The Unread
Could it be...Seton?