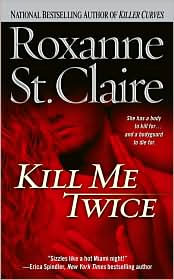 Title:
Kill Me Twice
Author:
Roxanne St. Claire
Publishing Date:
2005
Genre:
Romantic Suspense
Rating:
B
Sensuality:
Hot
Kill Me Twice
is the first book in Roxanne St. Clare's Bullet Catchers series. Alex Romero works for the elite, covert team as a spy, bodyguard and security specialist. Now, he has to pay the price since he screwed up his last mission. He has been assigned to babysit news anchor Jessica Adams. It's not exactly the assignment of his dreams. Only when he arrives in Miami, it isn't Jessica whom he meets, it is her twin sister Jazz, who immediately gets under his skin. Jazz is pretending to be Jessica while she investigates a hot news story. Soon, it becomes apparent that the story Jessica is following has turned dangerous and Jazz, with the help of Alex, will fight to keep Jessica safe.
Kill Me Twice
is a fun, fast read. It has many of my favorite features in a romance book. It has smart and witty dialogue between the hero and heroine. It has a sexy, confidant heroine who has no trouble at all bringing the hero to his knees. It also has the macho hero with an over protective streak, a mile wide. This book had no problems keeping me entertained.
Jazz Adams is a strong, independent woman. Although, when the book begins she just doesn't know it yet. She feels more like she has always lived in her sister, Jessica's shadow. Now that Jessica needs her, she wants to prove to her sister that she can be the one to offer help. As Jazz uncovers the mystery surrounding her sister, she grows more confident in her own abilities. I really enjoyed the growth that Jazz displayed throughout the story. My one complaint would be how long it took Jazz to accept that Jessica was actually in trouble. I think she denied it a lot longer than she should have, when all the clues where practically screaming at her.
Alex was not as well developed as Jazz. The reader gets the sense that he is intelligent and sexy and protective, but we don't really get more than just what is on the surface. More background or little stories about his past might have helped to reveal more about him. What I did get to know, I liked. It's just knowing more about him might have made me feel more connected to him and would have made his feelings toward Jazz feel all the more believable. One thing that really stood out for me was how he understood Jazz and let her be herself. The true testament - how he allowed himself to trust her.
Kill Me Twice
is good stuff and these are all minor complaints. It's a good book and I will be reading more from Ms. St. Claire.
Here is what others had to say:
Dear Author