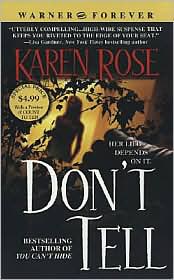 Title:
Don't Tell
Author:
Karen Rose
Publishing Date:
2003
Genre:
Romantic Suspense
Rating:
A
Sensuality:
Warm
Mary Grace Winters nine years ago ran away from her abusive husband with her seven year old son Robbie. She knew if she stayed with her husband any longer that he would eventually kill her with his frequent beatings. After healing a broken back, that was the result of a fall down the stairs, Mary Grace changed her and her son's name and moved to Chicago.
There are three separate plot threads in
Don't Tell
that all eventually come together to a very exciting conclusion. The first is Mary Grace, now Caroline Stewart, meeting and falling in love with her new boss Max Hunter. The second is Rob Winters Caroline's abusive, cop husband, who now discovers after nine years that his wife was not abducted and killed, but deceived him and has hidden from him. He is on a hunt to find her and make her pay for taking his son away from him for so long. The third thread are the cops who are looking for Mary Grace and are following Rob's trail.
Don't Tell
was very well balanced between the suspense portion of the book and the romance between Caroline and Max. This was a very intense read. I was on the edge of my seat for most of the book, waiting for Rob to catch up with Caroline. I was biting my nails, hoping and praying the cops would catch Rob before he gets to Caroline. Rob was one of the scariest bad guys I have come across in a long time. He is truly a sadistic sick pup and the stuff of nightmares.
While Rob is hunting her down, Caroline is finally letting down her guard and trying new life experiences with Max. It is not easy by any means. Both Max and Caroline have huge baggage that they have to deal with. Caroline is weary of men and not sure she can entirely trust one again. Max carries incredible guilt for causing the death of his father and is a bitter man. Caroline teaches him about what it really means to live and their story is very moving. The romance is more sweet than hot, but it was in keeping with Max and Caroline's personalities. I just loved this book and highly recommend it. Karen Rose is awesome!
Here is what others had to say:
The Good, The Bad, The Unread
Books, Books and More Books
Pearl's World of Books
Leslie's Psyche
This book can be purchased in print or kindle format at
Amazon
.