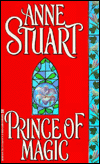 Title:
Prince of Magic
Author:
Anne Stuart
Publishing Date:
1998
Genre:
Historical
Rating:
C-
Sensuality:
Warm
Elizabeth Penshurst has never fit in with her family. The only person who seems to understand her Fae nature is an old woman whom rumors claim is a witch. As hard as Lizzie tries to follow convention, it still manages to elude her. Finally she goes to far and is caught dancing in the woods in nothing but her shift and bare feet. Her father, in a last ditch effort, ships her off to Hernewood, Yorkshire where some of her distant relatives live. There, she is supposed to learn how to behave like a proper young lady. Instead, Lizzie finds herself embroiled in a secret Druid cult bent on making her their virgin sacrifice.
I struggled through most of
Prince of Magic
. What could have been a strong Gothic tale turned into a farce because of the laughably 'Eeevil' characters that make up the Druid cult. They didn't even come close to instilling any sort of fear in me and their motivation was entirely lacking. Also, I had issues with the hero, Gabriel. Many times the author told me how devilish Gabriel was, but she never showed me. Overall, the book was unable to evoke any kind of strong emotion from me.
About the only thing that saved this book from being a total disaster were the secondary characters Peter and Jane. The romance between Peter and Jane was good and I also liked Jane and Peter's interaction with Gabriel. There is a wall-banger moment when Peter rescues Jane that I am still shaking my head over. In conclusion, I am sorry to say that I do not recommend this book.
This book was part of Keishon's TBR Challenge 2009. This month the theme was tortured heroes or heroines. A list of particpants in this challenge can be found
here
.