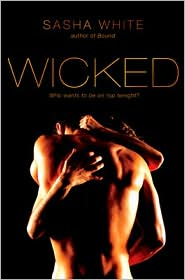 Title:
Wicked
Author:
Sasha White
Publishing Date:
2008
Genre:
Contemporary (Erotic)
Rating:
B
Sensuality:
Burning
Karl Dawson, whom readers met in White's previous novels
Bound
and
Trouble
finally gets his own story in
Wicked
. By day he is a successful divorce attorney, too successful for his tastes. Seeing all the men and women seeking divorce leaves a bitter taste in his mouth about the permanency of relationships. He longs for the type of intimacy his friend Val and Samair (Trouble) have, as he is bored with meaningless sex. Then he meets Lara Fox, who rooms with his secretary, while she is upgrading his office's computer system. She is very different from the meek, mild mannered women he is used to dating. Lara seems to be able to spark his interest that has considerably waned.
Wicked
is a fast, sexy read. Karl Dawson is a deliciously, yummy man. He is a dominant and likes to play in the Dominant/submissive lifestyle. As far as the D/s relationship in this book, it is fairly light. Karl is not into pain or anything like that, he just likes to be in charge. He is quite fascinated by his attraction to Lara because she is anything but meek. Lara has a vivacious personality and does not like to depend on anyone. She is extremely independent and Karl knows that she is nothing like the woman he is used to being with. She will cause him all kinds of grief, but he can't seem to help himself. And having Lara submit to him willing is only sweeter because she is so independent.
I really enjoyed reading about Lara and Karl's relationship. I really think Ms. White had something going with Lara's introduction into Karl's lifestyle. Lara is not shy about sex, but she is not familiar with D/s lifestyle. I think that her acceptance of Karl was too quick, for all the baggage she had. I wish that Ms. White would have really delved into Lara's mind a little more, made her work through these issues with Karl. I really enjoyed what I read, but I wanted more. More interaction between Karl and Lara after they declared that they were going to be exclusive and live together. I think it would have made the book stronger.
Here is what others had to say:
Dear Author
Dark Angel Reviews