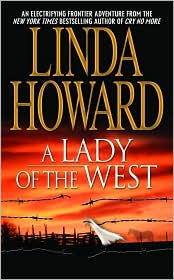 Title:
A Lady of the West
Author:
Linda Howard
Publishing Date:
1990
Genre:
Western
Rating:
B-
Sensuality:
Hot
As many of you probably already know, I am a HUGE Linda Howard fan. I have read just about everything she has written, except for a couple of her first books.
A Lady of the West
is one of those books and because of some rumors I had heard about the book, I wasn't planning on reading it. Among those rumors was that the hero hits the heroine. The discussion got going about it on
Twitter
a couple of weeks ago, I felt compelled to read it.
A Lady of the West
takes place in New Mexico Territory in 1866. Victoria Waverly, a young gently bred lady sacrifices herself to wed General McLain because her family desperately needs money. Twenty years prior General McLain viciously took over the Sarratt Ranch and leaving two young boys for dead. Jake Roper is all grown up now and looking to take back the ranch that should have been his and to avenge his parents' deaths. Surprisingly, he finds himself smitten with Victoria's quiet, graceful nature. For the first time in his life, revenge is not the only thing he has to live for.
Jake Roper is a hard man. He witnesses the rape and then subsequent murder of his mother at the tender age of thirteen. He and his younger brother Ben are both shot, fleeing their ranch. For twenty years he has been on his own with nothing but revenge for company. He doesn't know how to live any other way and in this harsh environment he has to be tough to survive. When he meets Victoria he is surprised by how much he wants her and from the first moment he sees her he is compelled by her strength and grace.
Victoria was a surprise. I was expecting a more meek heroine and Victoria has a surprisingly strong backbone made of steel. She is willing to make sacrifices for her family, but she still has her pride and this gets her in trouble with Jake a number of times. Jake and Victoria are very passionate characters and walk a fine line between love and hate. At times the book was difficult to read because of the strong emotions from the characters. After a particularly emotional argument, Jake goes too far and slaps Victoria in the face, hard enough to knock her down and leave a bruise. Sure he is remorseful, but who is to say it won't ever happen again when he gets mad. That scene left a very sour taste in my mouth. It is such a shame too, because
A Lady of the West
is a good story and the characters are richly drawn.
There were many secondary characters that made an impact on the story. The relationship between Victoria and her cousin Emma and her sister Celia were very well done. The reader was able to get better insight into Victoria's character through her interaction with Emma and Celia. Both Emma and Celia each had their own mini-romance in the later half of the book.
Linda Howard is a fantastic storyteller. I do recommend the book, but with reservations. Readers who enjoy books from Judith McNaught or Linda Howard may enjoy
A Lady of the West
. If you are a fan of more "old school" romances or angst, this one might be for you. If not, then stay far, far away!
This book can be purchased in print format from
Amazon
.