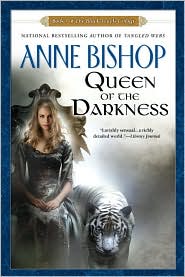 Title:
Queen of the Darkness
Author:
Anne Bishop
Publishing Date:
2000
Genre:
Fantasy
Rating:
B
Sensuality:
Warm
Queen of the Darkness
is third book in Anne Bishop's Black Jewel's Trilogy. I will try to give a brief synopsis of the book without giving away too much of the previous books.
Queen of Darkness
is the epitome of Good vs. Evil. Jaenelle Angelline is now the Queen and she has foreseen that an inevitable war is coming between Kaeleer and Terreille. Jaenelle, along with her court triangle consisting of Daemon, Lucivar and Saetan will fight to rid the realm of the evil that Hekatah and Dorothea have perverted the land with. The only way to stop it will be to do the most dangerous and unimaginable thing she can: tap into the deadly unstoppable power of her Ebony jewels. By doing so, Jaenelle not only has the power to destroy the evil Hekatah, but all the Blood, including herself.
The interaction between the men and women of Jaenelle's court was a delight to read. These two groups are constantly exasperated with one another. The men have a tendency to be overprotective of their women and the women see it as a nuisance. The women on the other hand always seem to be up to some sort of mischief which in turn makes the men see the women as a blight to their sanity. Yet beneath all the complaints, it is easy to see how much both factions appreciate the other. The women appreciate the men's vigilance and the men appreciate the women's playfulness and laughter.
Coming from a strictly romance perspective, I was a little disappointed with the attention devoted to Daemon and Jaenelle's relationship. Given that this is straight fantasy, and not fantasy romance, my gripes are seemingly irrelevent. This also brings me to the ending of this book. Things are not exactly all wrapped up and neatly tied with a bow. There are some issues left unresolved and I felt somewhat disappointed with the conclusion of the trilogy. A very important question is left unanswered. Certain things are alluded to, but nothing is clear cut. I like things spelled out for me and that is not what I got. Now, having said that, it appears that there are more books that are a part of the Black Jewels trilogy, so maybe some of my questions might be answered in these other books.
If anyone has information that they would like to share about this series, feel free to comment or email me. I plan on doing a Series Sunday post about it. Any information would be helpful about the other books such as
Dreams Made Flesh
,
The Shadow Queen
or
Tangled Webs
. Anne Bishop's website was not very helpful.
Here is what others had to say:
Leontine's Book Realm
Silverworm's Book Reviews
Nice Mommy ~ Evil Editor