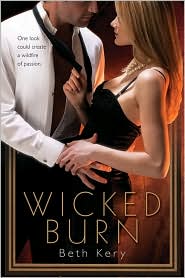 Title:
Wicked Burn
Author:
Beth Kery
Publishing Date:
December 2008
Genre:
Contemporary
Rating:
B+
Sensuality:
Burning
Niall Chandler on her way home from a charity dinner finds herself in the unwanted clutches of her date. Standing out in the hallway in front of the door to her apartment, fighting off her overzealous date, her hunky next-door neighbor Vic comes to her rescue. After not so subtly telling Niall's date to get lost, he asks Niall if she would like to go back to his place for a drink. Niall, unable to resist Vic's sex appeal accepts for not only just a drink, but for one of the most erotic sexual encounters she has ever had in her life.
Beth Kery is a new author to me. I usually am leery when trying a new author because I never know how their writing is going to appeal to me, especial authors who write erotic romance. I was pleasantly surprised by
Wicked Burn
and found I enjoyed it quite a lot. I would compare Beth Kery's writing to Shannon McKenna or Lisa Marie Rice in terms of the sexuality, characters and pacing.
I really enjoyed Vic's character. There were many different layers to his personality. In public, or I should say, outside the bedroom, he is a man of few words. He doesn't like crowds and prefers to sit on the sidelines and observe rather than be in the spotlight. In the bedroom he is demanding and possessive and completely in charge. I love how when he is with Niall, he gives her his complete and utter attention.
Niall wasn't quite as well depicted at Vic. I could empathise with her character but there were times when she annoyed me. The way she handles her problems and how they affected Vic really bothered me. Instead of facing Vic, she runs from him and doesn't give him any explanation. As a reader this frustrated me. But that was really my only complaint. Other than that, I thought it was a solid, sexy story.
Here is what others had to say:
Book Binge
Dear Author
Closet Writer
Lovin' Me Some Romance
Cindy Reads Romance
Babbling About Books and More
The Good, The Bad, The Unread