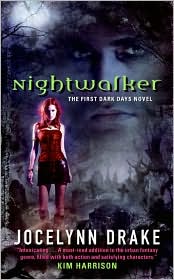 Title:
Nightwalker
Author:
Jocelynn Drake
Publishing Date:
2008
Genre:
Urban Fantasy
Rating:
B
Sensuality:
Warm
Nightwalker
is the first book in Jocelynn Drake's The First Dark Days series. It is narrated in first person by Mira, a centuries old nightwalker, otherwise known as a vampire. She has resided over the undead in Savannah, Georgia ever since she finally decided to leave the ancients who made her. Lately there has been a hunter in her territory killing off her people. She hasn't minded so much of late, because those vampires this hunter Danaus, has killed were a threat anyway. These vampires on their compulsive killing sprees among the humans threatens to expose Mira and her kind. She follows this hunter's progress and finally confronts him. She learns that even though he is her enemy, he has knowledge of an even greater threat and that they must work together if they are going to stop it.
Nightwalker
is not a romance, although there is definitely some tension between Mira and Danaus. It is very subtle and I am sure as the series progresses will become more prominent. Instead the focus is on Mira and how she must find a way to put a stop to the Naturi, a very destructive race of beings. They will wipe out humans and vampires with a blink of the eye, if they manage to break the seal holding them prisoner. This is a story with a Good vs. Evil theme. But there is a unique spin to this theme in that Good and Evil isn't necessarily defined by black and white. There are some shades of grey and this book will make a reader question their definition of what is acceptable.
Mira is an interesting mix of strength and vulnerability. She is very powerful with her magic and physical strength. Yet, mentally she is very fragile. It is an interesting paradox and adds layers of depth to her character. The world building is very well done, and easy to follow along. The reader doesn't get the whole story right away, but the facts are slowly released. Mira's past is not divulged all at once either. She has memory losses from a certain period in her life and those memories are key to what is currently happening to her. Ms. Drake has definitely piqued my interest. I am very curious to see what happens between Mira and Danaus and how they will overcome their differences.
Here is what others had to say:
Blog Critics
The Book Smugglers
Dottie's Blog 2.0