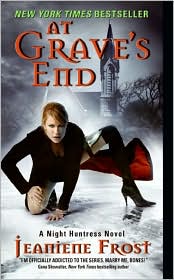 Title:
At Graves End
Author:
Jeaniene Frost
Publishing Date:
January 2009
Genre:
Urban Fantasy/Paranormal Romance
Rating:
B+
Sensuality:
Hot
Cat Crawfield is back in Jeaniene Frost's third book in the Night Huntress series. Cat is half vampire/half human and is a secret government agent fighting against vampires. She leads a team of elite men, ghouls and one vampire, her husband Bones. Cat's cover has been blown. Vampires from around the world are aware of her existence and have nicknamed her the Red Reaper as she has red hair and efficiently eliminates vampires with her silver stakes. Her life is in danger when two vampire clans end up at war with one another and Cat is caught in the crossfire.
Once again Jeaniene Frost delivers a fun, yet tense romp into the world of the undead. Her writing flows smoothly and she has a wicked sense of humor. Cat and Bones are now in an established relationship. Their relationship is solid, but the world around them seems to be coming unglued. Tate is still in love with Cat and making it clear to the whole world. I really like the direction that Frost has taken with his character. Readers will be very sympathetic to his unrequited love and be rooting for him to find some peace with it.
I think one of the highlights for me was the change in Cat's mother. At the beginning of the series Cat's mom firmly believed that all vampires were evil creatures and all should be killed. Now that she has met Bones and other undead individuals, her eyes have been opened. Just because they are vampire doesn't necessarily make them evil. There is a really funny exchange between Cat and her mom after Cat and Bones drop by on her mom unexpectedly. I wanted to add it to my review, but felt like I might spoil it for some readers. Just suffice it to say that I laughed my ass off over that scene.
I am firmly engrossed in this series. I love the characters, the world building and the stories themselves. I highly recommend Jeaniene Frost for readers who enjoy paranormal romance or urban fantasy. Don't delay, get started on these books pronto!
Here is what others had to say:
Flames Rising
Books and Things
The Good, The Bad, The Unread
Darque Reviews
Babbling About Books and More
The Book Girl
Brooke Reviews
Good and Bad Books & Every Book in Between
This book can be purchased in print and kindle format from
Amazon
.