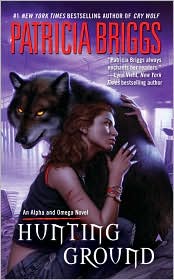 Title:
Hunting Ground
Author:
Patricia Briggs
Publishing Date:
August 2009
Genre:
Paranormal
Rating:
A-
Sensuality:
Warm
Anna and Charles' story continues with the second book in Patricia Briggs Alpha and Omega series.
Hunting Ground
picks up soon after where the first book
Cry Wolf
left off. Anna and Charles are living together among the Aspen Creek Pack. Charles is the son of Bran, the Marrok of the North American werewolves and also Bran's second in command or enforcer. Charles has the dirty job of carrying out Bran's orders, which often means executions of disorderly werewolves. Bran has decided to come out to the public about the existence of werewolves. A meeting will be held in Seattle that the European werewolves will attend. Charles will go in his father's place.
Patricia Briggs is a master storyteller. Even in an industry flooded with paranormal/shapeshifter romances, she is able to keep her series fresh and interesting. Charles and Anna are strong characters whose many layers are peeled slowly like an onion. Where
Cry Wolf
focuses more on Anna,
Hunting Ground
focuses more on Charles. Charles often keeps to himself staying to the perimeter of social interaction. He does this as a way to keep a distance between himself and the other pack members, because one day he may have to take their life in following Bran's orders. What the pack members don't realize is that Charles is a warm, sensitive and loving man, but they only see his cold, enforcer side.
The world Briggs has created mostly mirrors our own. Just thrown in crazy, supernatural creatures like wolves, witches and the Fae and now you are in another reality. The beauty to Brigg's writing is that even though these creatures may be supernatural, they have human characteristics. They hate. They love. They lust. They fear. This gives the series a more realistic feel to it.
I am loving this series. Patricia Briggs is an awesome writer! Her writing is flawless and her characters are realistic and memorable. A reader can't help but fall in love with this world she has created. Bravo Ms. Briggs!
Here is what others had to say:
Breezing Through
Darque Reviews
Angieville
Tracy's Place
Smexy Books
Erotic Horizon
The Book Smugglers
This book can be purchased in print or kindle format from
Amazon
.