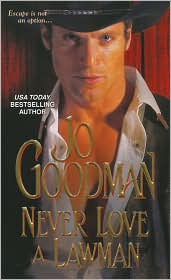 Title:
Never Love a Lawman
Author:
Jo Goodman
Publishing Date:
September 2009
Genre:
Western
Rating:
B
Sensuality:
Warm
Rachel Bailey escapes to the small mining town of Reidsville, Colorado to carve out a new life for herself. She mainly keeps to herself designing and sewing clothes for the town inhabitants. Through the plans of a generous, yet manipulative man she becomes the proud owner of a stretch of railroad and a silver mine. The catch is that she must marry the town Sheriff in order to inherit the property. Rachael is between a rock and a hard place because the town is dependent upon the mine and the railroad, yet even though she is attracted to Wyatt she does not want to give up her independence.
Rachel Baily has some skeletons in her closet. When readers are first introduced to her they are not sure of her backstory. Wyatt the sheriff assumes she was the mistress of a wealthy, older man and Rachel does nothing to disabuse him of this notion. Of course, the reader will quickly pick up that Wyatt is wrong in his assumptions. The way Goodman slowly reveals information about Wyatt and Rachel is very nicely done and keeps the reader guessing about these two characters. Goodman's strength is in her well developed characters, even the secondary ones, and excellent dialogue.
Both Wyatt and Rachel are appealing characters. Rachel is slightly prickly, but not overtly so and she is well balanced. I found Wyatt more appealing with his honesty and keen insight into human behavior. Wyatt and Rachel have very good chemistry together and they work through their differences well.
Never Love a Lawman
, while a good book was not my favorite by Goodman. I think this may have been due to the lackluster plot. I didn't really understand why Rachel had to marry Wyatt. The reasoning behind is seemed pretty flimsy to me. I just didn't feel like the story gripped me like other books by Goodman have in the past. That's not to say this was a bad book, just not her best (in my humble opinion)!
Here is what others had to say:
Monkey Bear Reviews
Impressions of a Reader
Book Pushers Anonymous
Dear Author
This book can be purchased in print or kindle format from
Amazon
.