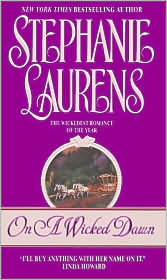 Title:
On a Wicked Dawn
Author:
Stephanie Laurens
Publication Date:
2002
Genre:
Historical
Rating:
C+
Sensuality:
Hot/Burning
Amelia Cynster's twin sister has recently married and now she knows it is time to put her plans into motion. She has always loved Lucien Ashford, a good friend of the family's. She has known him since she was a little girl. While Lucian is fond of Amelia, she knows that he does not share the same feelings for her. However, she does believe that under the right circumstances it would be possible for Lucian to grow to love her too. She knows that Lucian is lacking the funds that he will need for his sisters' coming out. She proposes a marriage of convenience that with her large dowry will be sufficient to solve all of Lucian's money problems. He agrees to the marriage, although he just recently managed to solve his own money problems for himself and decides that marrying Amelia fits him just right.
Right away Lucian and Amelia both are hiding something from the other and that is they both are in love with the other without the other actually knowing it. So they both set out to seduce the other in the hopes of making the other fall in love as well. Sounds convoluted? Well it is. Although, I enjoyed this plot device because the story really focused on the romance between the characters. Another bonus was that this book was very sensual in nature, so sensual in fact that I had a hard time rating it. I was tempted to give it a burning rating because of the numerous sex scenes, but the language was far from graphic, more like subtle and poetic. I did feel that the story at 420 pages, could have been scaled down by about 100. After a while, I felt things were too drawn out and became repetitive.
Aside from the main conflict of misinformation between Lucian and Amelia, there was also a mystery involving a thief. The mystery was slightly cliched in that the big reveal ended with Amelia in danger and Lucian rescuing her. I really can't take points off for that because I enjoy it when the hero comes to the heroine's rescue, though Amelia put herself in danger after having a TSTL (Too Stupid Too Live) moment. For the most part this was an enjoyable read even if it was drawn out a tad too much for my liking.
On a Wicked Dawn
was part of Keishon's TBR Challenge. You can find a list of everybody who is participating
here
. This month's theme was new to you author or an author you haven't read in a long time. I was scheduled to read a book by Lorraine Heath, but I opted for Stephanie Laurens and her famous Cynster series.
Devil's Bride
, which is the first book of the Cynster series is a favorite of mine.
Here is what others had to say:
Thrifty Reader
Smart Bitches, Trashy Books
This book can be purchased in print or kindle format from
Amazon
.