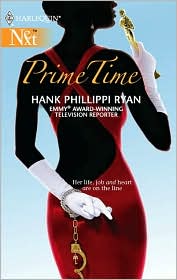 Title:
Prime Time
Author:
Hank Phillippi Ryan
Publishing Date:
July 2009
Genre:
Mystery
Rating:
B
Sensuality:
Kisses
Prime Time
is the first book in a new mystery series by Hank Phillippi Ryan. Charlotte McNally is an Emmy winning investigative reporter for a leading Boston television station. At age 46 she feels she is loosing her edge. This is a big source of stress for her as she has devoted her whole life to being a journalist. She isn't married and she has no children. When she thinks about it, she doesn't have many close friends either.
Sweeps is coming up and she needs a humdinger of a story to present to the station or she fears she will be fired. With the help of her producer Franklin Parrish, she begins investigating the death of a man that was labeled a suicide, who worked for a pharmaceuticals company . This same pharmaceutical company is being investigated for fraud. She wonders if there is a connection.
At first when I started reading
Prime Time
and I realized that the heroine was 46 years old I felt my red flag go up. I don't typically read books with the heroine older than myself (32) and I wasn't sure if I would be able to relate to her. Turns out I didn't need to worry because Charlotte or Charlie as her friends call her, is a sympathetic character. Sure she is older, but older isn't necessarily bad in this case. I would think of it like a fine wine, after a few years the wine's flavors become bolder and more fragrant. Charlie grows on you. She is a good mixture of sarcasm and vulnerability topped off with a generous helping of whit and intelligence.
It is very obvious that Ms. Ryan is an expert in the field of television reporting. Her descriptions of newsroom antics and politics are very vivid and ring true. Also, the mystery was very creative and was executed with precision. I found myself engrossed as Charlie uncovered clues leading her one step closer to unraveling it all. As far as the romance is concerned there was a little, but probably not enough to satisfy fans of romance. I think as long as you are a fan of romantic suspense or mystery and readers keep in mind that the romance is not the focus, then they will enjoy this book. I will definitely be reading the next book
Face Time
in the future.
Here is what others had to say:
Long and Short Reviews
My Thoughts...your thoughts?
Romance B(u)y the Book
Single Titles
This book can be purchased in print or kindle format from
Amazon
.