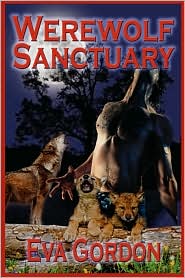 Title:
Werewolf Sanctuary
Author:
Eva Gordon
Publishing Date:
May 2009
Genre:
Paranormal
Rating:
B-
Sensuality:
Hot
Werewolf Sanctuary
is the first book in a new series by Eva Gordon titled, The Wolf Maiden Chronicles. Dr. Madeline Styles, a veterinarian is an expert in wolf diseases. She has just returned from Ethiopia where she was doing research to find that her fiance has left her for his secretary. Wyatt Weylin is the alpha werewolf of the Montana pack. For some unknown reason the cubs of his pack get sick and revert back to their wolf selves never to return to their human forms. He seeks an expert on wolf diseases to find a cure for this mysterious illness. When Wyatt and Madeline meet at a conference the sparks fly almost immediately. Soon he discovers the reason for this is that Maddie is a wolf maiden, one of the few human women who can mate with alpha werewolves.
I happen to love a good werewolf story, so when I heard about
Werewolf Sanctuary
it sounded right up my ally. For the most part this was a good solid read. The beginning of the book started out strong with Maddie and Wyatt meeting. The sparks of attraction between the two characters fly. Wyatt even has an opportunity to rescue Maddie from a gang of thugs. Here we see just how much control Wyatt has over his wolf instincts. Yum! Wyatt is an irresistible hero. Maddie is no slouch herself. She takes the revelation that there are werewolves in this world very well. No simpering maiden is she. She accepts Wyatt's romantic advances right away.
Where the story takes an unexpected turn is in the pacing of the book. Like I stated above, the beginning is very good, but about a third into the book things start to slow down. Then just after about the halfway point in the book there is a huge showdown and what I would call the climax of the story occurs. Only the book isn't over like you would expect. There are still several more chapters to go. I think if the suspense portion of the book had been spaced out closer to the end it would have made a bigger impact. Also, there is a lot going on in this book, yet it is relatively short. I would have liked to see more interaction between Maddie and Wyatt developing their relationship. The development gets cut short because of the pack problems Wyatt and Maddie have to deal with.
I feel that this new series has promise. I could tell that Ms. Gordon has done her research on wolves and has integrated that knowledge into her story. I recommend
Werewolf Sanctuary
to fans of werewolf romances.
This book can be purchased in print or kindle format from
Amazon
.