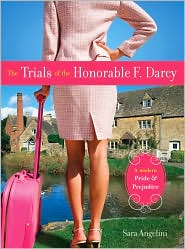 Title:
The Trials of the Honorable F. Darcy
Author:
Sara Angelini
Publishing Date:
October 2009
Genre:
Contemporary
Rating:
C+
Sensuality:
Hot
The
Trials of the Honorable F. Darcy
is a modernized version of Jane Austin's
Pride and Prejudice
. Elizabeth Bennett is a lawyer and she represents her clients often times before Judge Fitzwilliam Darcy. Lizzie's first impression of Judge Darcy is not a good one. She thinks he is a stuffy bastard and wants nothing to do with him. Darcy on the other hand is intrigued by Ms. Bennett and is quite shocked by her dismissal of him. Fate has other plans for these two as they keep running into each other because Elizabeth's sister, Jane and Darcy's best friend Charles are dating.
The same cast of characters evident in the classic story of Pride and Prejudice have been reinvented to reflect the more modern 21st century. At first, I found the more modern version of Darcy and Elizabeth to be quite shocking. Darcy throws around f-bombs left and right and he is having sex with Caroline Bingley. In the beginning, he is definitely not the man of the hour and Lizzie has every right to be turned off by him. Lizzie is quite honest with Darcy and does not sugar coat her feelings toward him. The reader has to wonder how they will fall in love. It does not look good.
Darcy and Lizzie wind up at a conference in England and spend time getting to know each other better. Darcy becomes more laid back and Lizzie lets go of her hostility. The nice thing about this story is it really is all about these two characters falling in love. There are no bullets flying, no side plots other than Jane and Bingley, and the focus is completely on Lizzie and Darcy working through their relationship.
Spin off books from
Pride and Prejudice
can be hit or miss for me. This one falls somewhere in the middle. The beginning was a little slow. The pacing seemed a little off and the characters were prickly, but once the story got going the problems seemed to work themselves out. As I said before, it was nice to read a book that focused on the characters falling in love. Readers don't necessarily have to have read
Pride and Prejudice
to read this book. It stands alone completely.
Here is what others had to say:
The Book Girl
A Bibliophile's Bookshelf
Leslie's Psyche
This book can be purchased in print format from
Amazon
.