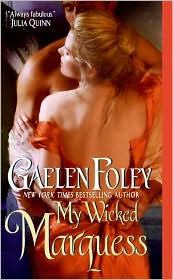 Title:
My Wicked Marquess
Author:
Gaelen Foley
Publishing Date:
July 2009
Genre:
Historical
Rating:
B-
Sensuality:
Hot
My Wicked Marquess
is the first book in a new series by Gaelen Foley, The Inferno Club. The Inferno Club refers to a group of men who outwardly give the appearance of lazy men who only care about debauchery, but in reality they are working to shut down a group of men who are out for world dominance. For thousands of years these men have lived to protect the rest of the population who are otherwise unaware that a threat even exists. Max, the Marquess of Rotherstone has completed his mission and is now free to resume his life and live it as he sees fit. He needs an heir so he must marry. He enlists the help of his solicitor who makes a list of five of the most eligible women. Of these women Daphne Starling is one who catches his eye.
Daphne's mother died when she was a young girl and her father has indulged her most of her life. You would think she would be spoiled, but luckily for the reader she is not. She is actually a very thoughtful individual and one of her projects is raising funds for an orphanage for the more unfortunate children in London. Max is drawn to her good heart even though she seems to have a bit of scandal attached to her name. Another had asked for her hand and marriage and she refused him. He took the rejection badly and called her a jilt. Max dismissed it and ironically enough the jilted man turned out to be none other than his childhood Nemesis.
My Wicked Marquess
was an okay read. At times I found it to be overly sentimental and sappy. Some may even go as far as to call the prose "purple". I think that the characters were well developed and enjoyable. I also found the plot in dealing with the Inferno Club quite interesting. I just found the romance to be on the flowery, poetic side which isn't quite to my liking. Don't get me wrong, Max and Daphne did have issues and they actually work through them. I will be giving the next book in this series a chance, as I do believe the series has promise.
Here is what others had to say:
Heidenkind's Hideaway
The Good, The Bad, The Unread
Book Reviews by Evil Cliffie
Rip My Bodice
This book can be purchased in print or kindle format from
Amazon
.