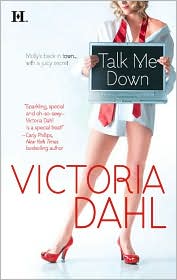 Title:
Talk Me Down
Author:
Victoria Dahl
Publishing Date:
January 2009
Genre:
Contemporary
Rating:
B-
Sensuality:
Hot
Molly Jennings finds herself back in her home town of Tumble Creek, Colorado after her Aunt leaves her an old farm house. Since Molly is a writer of erotic romance - which she keeps secret from everyone - she can live anywhere. She discovers after running into Ben Lawson in the grocery store, that maybe she just never got over the crush she had on him. Wouldn't it be fun to shore up with him for the winter? She sets about to rekindle an old flame, but Ben wants more than Molly is willing to give. He wants to know all about her and that means what she does for a living. The catch is Molly can't seem to trust anyone. Will she be able to trust Ben?
Talk Me Down
is a witty, sexy contemporary with a delicious hero, Ben. He is smart, sexy and caring, but a rule follower and has a somewhat serious demeanor. Molly on the other hand, is all about fun and games. She seems to get the best of him with her flirtatious and outrageous manner. Sometimes I found this to be entertaining, but at a certain level I also found it irritating. I didn't like the fact that Molly wouldn't trust Ben with her secrets. She was constantly lying to him and it frustrated me. She holds out with these lies for three-quarters of the book. This was much too long in my opinion.
In addition to Molly and Ben's conflict with their relationship, there is also a stalker who has made Molly their target. There are a couple of suspects who seem rather obvious and there wasn't much suspense to the mystery. Although, it did take a little twist I didn't see coming. Yet,
Talk Me Down
is still primarily a contemporary romance and not romantic suspense. I felt that the author did a good job of making Ben and Molly work through their issues without using the stalker as a way to motivate them.
In summary,
Talk Me Down
was a better than average read, with a few minor problems. I enjoyed Ben's personality better than Molly's but found them to be complementary to each other. I look forward to reading more of Victoria Dahl's work.
Here is what others had to say:
Monkey Bear Reviews
Reading, Etc.
Breezing Through
Tracy's Place
A Hoyden's Look at Literature
CupK8's Kitchen
The Book Girl
Nonsensical Ravings of an Aspiring Writer
Book Binge
The Good, The Bad, The Unread
This book can be purchased in print or kindle format from
Amazon
.