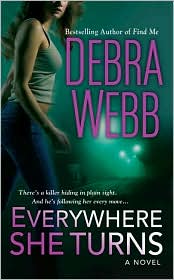 Title:
Everywhere She Turns
Author:
Debra Webb
Publishing Date:
2009
Genre:
Romantic Suspense
Rating:
B
Sensuality:
Hot
Book Disclosure:
Borrowed this book from the local library.
Dr. CJ Patterson learns that her sister Shelley has been murdered. CJ and Shelley grew up in Huntsville, Alabama on the wrong side of the tracks. CJ was able to make something of herself and become a doctor, but her sister Shelley wasn't so lucky. Shelley was a prostitute and drug addict. CJ goes back home to make sure the police are doing what they can to find Shelley's killer. CJ knows that since Shelley wasn't an important citizen that they would be more likely to ignore her murder than make it a priority. She won't stand for that and gets involved with the investigation.
Debra Webb pens excellent suspense. I was engrossed in the story right from the beginning. The suspense portion of the story is very involved. There are a multitude of suspects and angles that the police are investigating. The reader is privy to some of the suspects' points of view, as well as CJ's and the detective Braddock's. CJ and Braddock have a past, which unfolds a little at a time over the first half of the book. The sexual tension between CJ and Braddock is very well done and their first intimate scene together is a scorcher. Whew! I felt that the evolution of their relationship was excellently done and very believable.
The one thing that bothered me with the book was CJ. For an intelligent woman she sure did make some stupid decisions. She had a tendency to put herself in dangerous situations. I think for those readers who are sensitive to this type of heroine will be annoyed with CJ. I could over look it because Webb does pen a good story. The mystery/suspense had plenty of twists and turns where eventually everything culminated in a crashing crescendo. If you can overlook the heroine's bad decision making skills,
Everywhere She Turns
is definitely an entertaining read.
This book can be purchased in print or kindle format from
Amazon
.