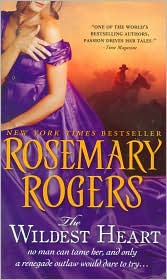 Title:
The Wildest Heart
Author:
Rosemary Rogers
Publication Date:
First in 1974, then rereleased by Sourcebooks in November 2009
Genre:
Western
Rating:
B-
Sensuality:
Warm
Book Disclosure:
Received an advanced review copy from the publisher.
The Wildest Heart
is a sweeping, epic historical written by the famous romance author Rosemary Rogers. She is probably best known for
Sweet Savage Love
, one of the first romance books that gets talked about time and again.
The Wildest Heart
is narrated by Lady Rowena Dangerfield. She grew up in India with her grandfather the Earl of Melchester, an unconventional man who believed Rowena should be given the same education as a man. To say Rowena is an unusual young woman is an understatement. The Earl dies and she is sent to London to live with her Mother and Stepfather. Her Mother resents her presence and her Stepfather lusts after her. It is quite an awful situation for Rowena. Eventually, good news comes and she learns her father has sent for her to come to America. He is co-owner of a ranch in New Mexico. So, Rowena sets off to the New World.
Things aren't what Rowena quite expected when she arrives. She learns her father has died, but he left her his journals where he chronicled his life. It seems there is a feud between the co-owner of the SD ranch, Todd Shannon and the Mexican family who claimed the land before, the Kordes. Rowena finds herself swept into the drama and intrigue.
I found myself swept into the drama and intrigue too! Rosemary Rogers excels at creating a stunning masterpiece with very intricate details that all tie into and explosive conclusion. This story was all over the map! On the one hand, it is incredibly well written. The plot is very detailed and thoroughly well thought out. On the other hand some of the subject matter is hard to swallow.
Since the story is narrated in first person, everything is discovered through Rowena's eyes. Rowena is a strong, prideful woman who is often described as cold or unfeeling as marble. She has built up this persona to shield the more vulnerable part of herself from the world. The reader understands this based on how Rowena grew up and the events that shaped her. I can't say I ever really warmed up to Rowena, but I understood her motivations very well. I also I can't say I agree with how she handled everything, but again I understand why. Rowena's personality so strongly leaps off the pages the reader will have no trouble understanding her.
What I think a lot of readers will struggle with in this story is the actual romance. Rowena eventually falls for Lucas Cord who is half Apache warrior. He is an outlaw and has an incestuous relationship with his mother. Yep, you read that right. Now, how in the world is this hero material? This was the main factor on what I struggled with and even though I did get past it (which is a testament to Roger's writing) I know it will be very bothersome to many readers. Also, it's not until the last half of the book that Rowena and Lucas begin their relationship and it is fraught with many obstacles. Of a 748 page book, I like my hero and heroine to spend more time together.
While I did enjoy this book, it is not one I would recommend to many romance readers. I think fans of historical fiction might be more intrigued by this story and then only those who enjoy more an anti-hero as opposed to a hero.
Here is what others had to say:
The Burton Review
My Book Addiction and More
Books Like Breathing
My Overstuffed Bookshelf
Revenge of the Book Nerds
Book Binge
This book can be purchased in print format from
Amazon
.