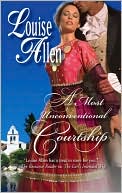 Title:
A Most Unconventional Courtship


Author:

Louise Allen
Publishing Date:
May 2007
Genre:
Historical
Rating:
B
Sensuality:
Hot
Book Disclosure:
Requested from Paperbackswap.
Alessa Meridith witnesses two local ruffians attacking an English nobleman in the courtyard outside her home after getting her laundry. She efficiently disarms the men, but unfortunately not before the nobleman is knocked unconscious by a nasty hit to the head. With the help of her neighbors, Alessa manages to get him upstairs to her apartments. She plays nurse to his injuries that night. When Lord Blakenly awakens in the morning, he finds himself entranced by this local green-eyed woman. She is obviously educated and English, but just what is she doing living unchaperoned on a Greek island?
I have to say, I was pleasantly surprised with this story. I put off reading it for a long time - I have no idea why. The plot carries the book, as most of the conflict is external. Alessa has an interesting back story on how she came to be on the Greek island of Corfu. It's even more interesting how she makes her way back to England. Pirates, no less, are a part of it.
There are quite a few interesting characters, especially the Albanian Count, Voltar Zagrede. These characters weren't amazingly developed, but they were still captivating and fun to read. My one quibble with the book would be how quickly Chance and Alessa fall in love. It seems that their feelings were established too quickly in the constraints of the story. All in all, I would say this is a light,
pleasant read.
This was part of my TBR Challenge, hosted by Keishon of Avid Book
Reader.
(Please excuse the lack of links and pictures. I will clean it up when
I get back home)