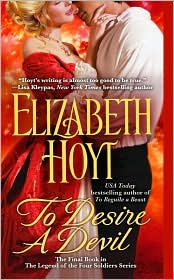 Title:
To Desire a Devil
Author:
Elizabeth Hoyt
Publishing Date:
November 2009
Genre:
Historical
Rating:
B+
Sensuality:
Hot
Book Disclosure:
A friend thoughtfully sent me her copy after she finished reading it.
To Desire a Devil
is the conclusion to Elizabeth Hoyt's quartet The Legend of the Four Soldiers. Reynaud St. Aubyn was captured during the French and Indian War at the battle of Spinner's Falls. His fellow comrades in war believed him to be dead, when he was actually living as an Indian captive for seven years. He managed to survive his captivity with the strong drive that he would make it back home to England - to his title as the Earl of Blanchard and his lands. The story opens with Reynaud literally crashing a tea party in the home of the current Earl of Blanchard. He is on death's door having taken sickness from the voyage from America to England. Beatrice Corning the current Earl's niece nurses him back to health for she has always been intrigued by the portrait of smiling young man. She recognizes Reynaud from his portrait even though he seems quite changed.
Again, Elizabeth Hoyt delivers! I really enjoyed the main characters Reynaud and Beatrice. Beatrice is a sweet, simple woman. Honestly, there is nothing complicated about her. What you see is what you get. She has many good qualities, such as compassion for both Reynaud and her Uncle Reggie. Reynaud's personality is more forceful and brash in comparison. He sees her quiet strength and compassion and wants to surround himself in it. He decides what he wants and is determined to have it. Theirs was just an enjoyable romance to read.
I felt the conclusion to who the traitor was over the Spinner's Falls massacre was a tad unexciting. I mean, there have been three previous books leading up to this conclusion and when we finally get to it, it seemed deflated. However, I did enjoy seeing Sir Alastair Monroe from
To Beguile a Beast
put to use a very clever ambush tactic upon the traitor. It made for a good laugh. It's little clever pieces like that which keep me coming back for more. Bravo Ms. Hoyt! You make it seem so effortless!
Here is what others had to say:
Babbling About Books and More
Dear Author
Closetwriter
Book Junkie
Love Romances and More
Anna's Book Blog
This book can be purchased in print or kindle format from
Amazon