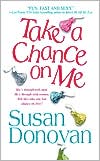 Title:
Take a Chance on Me
Author:
Susan Donovan
Publishing Date:
2003
Genre:
Contemporary
Rating:
B
Sensuality:
Hot
Book Disclosure:
Requested from
paperbackswap
after realizing it made Kristie J's top 16 list. Also, it met the requirements of my RT Reading Challenge.
I was in the mood for a light, funny romance and after hearing this was one of
Kristie J's
favorites, I decided to move
Take a Chance on Me
up in the TBR pile. If you are a fan of light-hearted contemporaries, then this is a story for you.
Thomas Tobin unexpectedly finds himself the temporary owner of a Chinese Crested dog named Hairy, when his owner is found murdered in his kitchen. Since that fateful day, little Hairy seems to have issues with anxiety. Thomas takes Hairy to see Emma Jenkins, an animal behaviorist who might be able to help Hairy with his anxiety issues. See, it just so happens that Hairy happened to witness a murder and Tobin needs Emma's help to make sense of it all.
One of the things that really stood out for me in this book was Donovan's ability to clearly describe her characters. Sometimes, I'll read a story and the character descriptions are kind of vague or glossed over. That is definitely not the case here. I had a very clear picture of what Emma or Thomas looked like, and now that I think about it, the secondary characters too - even little Hairy.
What is also nice about
Take a Chance on Me
is that yes, it is a light-hearted book and there are plenty of funny moments in it, but that is not all. This book also has some bittersweet more poignant moments as well. Emma has just divorced her ex-husband and is learning to value herself and also draw boundaries. Thomas is a big cynic who thinks all relationships are doomed from the start because he sees the worst of humanity through his job day in and day out. It is a nice change of pace for both Emma and Thomas to meet and interact with each other.
The only excuse I can find for not rating this book higher is mainly because I found Thomas to be a big stick in the mud the first part of the book. He was kept giving Emma mixed signals because he was mixed up himself, not sure of what he wanted. He does come around and the journey is a fun one to read.
Here is what others had to say:
Book Binge
Penelope's Romance Reviews
Tracy's Place
This book can be purchased in print or kindle format from
Amazon
.