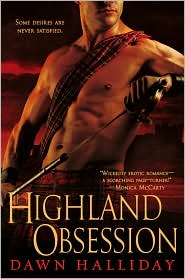 Title:
Highland Obsession
Author:
Dawn Halliday (AKA Jennifer Haymore)
Publication Date:
August 2009
Genre:
Historical (Erotic)
Rating:
C-
Sensuality:
Burning
Book Disclosure:
Rented from
Paperspine
and part of RT Reading Challenge
Alan MacDonald is Laird to the small village of Glenfinnan. He comes home after growing up in England to take a wife. He chooses Sorcha Stewart. Sorcha hides a secret from Alan in that she was first lovers with the Earl of Camdonn, Alan's good friend. Alan and Sorcha are wed and on their wedding night Cam kidnaps Sorcha after he realizes his feelings run deeper than a casual affair. Cam, Alan and Sorcha are tangled up in a web of deceit and will need to be honest with each other if they are to untangle it.
I was disappointed with
Highland Obsession
. The characters were flat and undeveloped. The situation between Alan and Sorcha, Sorcha and Cam and Cam and Alan could have been very intense, instead it was bland. Especially, the first half of the story because Alan withdraws both emotionally and physically from the situation and the action can't move forward until Alan is willing to confront both Cam and Sorcha. He finally does in the second half of the book and that is when the book does pick up.
Overall, my impression is not a good one. If this story would have been a little more even in it's pacing and I had been more emotionally drawn to the characters it would have been a better reading experience. On a positive note, at least the book was short.
Here is what others had to say:
Pearl's World of Romance
Errant Dreams Reviews
Book Addict
Lovin' Me Some Romance
Happily Forever After
Book Binge
Stacy's Place on Earth
This book can be purchased in print and kindle format from
Amazon