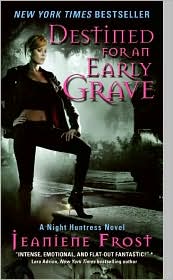 Title:
Destined For an Early Grave
Author:
Jeaniene Frost
Publishing Date:
August 2009
Genre:
Urban Fantasy
Rating:
A
Sensuality:
Hot
Book Disclosure:
Received a signed ARC at RT 2009.
Destined For an Early Grave
is book four in Jeaniene Frost's Night Huntress Series. If you are not familiar with this series you might want to check out this
post
. Cat Crawford is half vampire and the only one of her kind in existence. She hunts the undead, but she is also married to one, Bones. Cat finds out that another vampire, Gregory is claiming that he married her before Bones, only Cat has no recollection of it. Cat is determined to get to the bottom of this mystery.
I think
Destined For an Early Grave
is my favorite of the series so far. Cat has come such a long way since the first book. She has really come into her own skin. She is much more mature and has more knowledge of the world now. All this is really made obvious in the few flashbacks that Cat has when she learns of her past with Gregory. I think Frost did a fabulous job in showing the differences between the young and older Cat.
Destined For an Early Grave
focuses on Cat and Bone's relationship. They have some kinks in their relationship that they need to work on. This book focuses on those problems. Certain parts come across as very angsty and that is what I loved about it. The emotions - the highs and the lows really come across to the reader. I felt like I was right there with Cat and Bones. Not to worry, there is still plenty of humor to balance things out. Cat still zings those one liners like nobody's business. As far as I am concerned, Jeaniene Frost is at the top of her game.
Here is what others had to say:
Babbling About Books, and More
Literary Escapism
Fandomania
Darque Reviews
This book can be purchased in print or kindle format from
Amazon
.