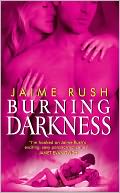 Title:
Burning Darkness
Author:
Jaime Rush
Publishing Date:
February 2011
Genre:
Paranormal
Rating:
A-
Sensuality:
Hot
Book Disclosure:
I received a signed free copy at RT 2011.
Burning Darkness
is the 4th full length book in Jaime Rush's Offspring Series. This is Eric Aruda and Fonda Raine's story. Readers first meet Eric in the first book
Touching Darkness
. Eric Aruda is part of a group of men and women whose parents were part of a government experiment. These people all inherited special powers from their parents. Eric can set people on fire and remote view another person. He meets up with Fonda Raine when she sets up a clandestine meeting with the intent to kill him. She is successful in her intent and instead her and Eric team up when they are attacked by others. Even though Fonda wants to hate Eric, his fierce protectiveness of her eventually leads more than either of them expected.
I have been intrigued by Eric from the first book in the series. Eric is one of those morally ambiguous characters who you aren't quite sure if he is good or bad. He definitely intrigued me and I couldn't wait to see what his character would do next in the series. I have to say that I was NOT disappointed with this book.
Burning Darkness
lived up to my expectation and so far is the best of the series.
For me this book was all about the hero. I just was totally hung up on Eric. I liked that he is big and bad and ferociously loyal and protective. Sigh. What's not to love? Also, I felt that Burning Darkness focused on the romance much more so than the other books in the series. I love that when Fonda has some hang ups in bed, Eric helps her work through it. For as pushy as Eric can be it is a good thing with Fonda at certain times. Fonda kept Eric guessing half the time too, which made thing interesting.
I think this series is getting better and better. I can't wait to see whose book is next. I am definitely looking forward to the next book in the series.