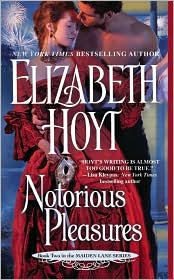 Title:
Notorious Pleasures
Author:
Elizabeth Hoyt
Publishing Date:
February 2011
Genre:
Historical
Rating:
B+
Sensuality:
Hot
Book Disclosure:
I purchased a new copy.
Notorious Pleasures
is the second book in Elizabeth Hoyt's Maiden Lane series. Lady Hero , right before her betrothal to the duke of Wakefield is to be announced, finds her finace's brother having relations with a married woman. Hero finds everything about the Duke's brother off putting. So why then does she find herself attracted to the blasted man? Even when Hero is off helping the orphanage she is a major patroness of; she finds Griffin meddling in her affairs.
I actually wasn't going to read this book. I was just going to skip on over to Silence's story when it came out. But I was talking to Ms. Hoyt at RT and she was telling me that Silence's story continues in
Notorious Pleasures
and of course since I like Silence so much I caved in and read this one. I know. I act like it was such a hardship :)
I think if most readers can get past the first chapter where the heroine finds the hero with another woman, then they are in for good read. I really enjoy Ms. Hoyt's writing style. She does a fantastic job of balancing action, dialogue and internal insight to the characters with pizzazz and flair.
Notorious Pleasures
is no exception. There is a lot of really wonderful dialogue between Hero and Griffin. There is a lot of heat and sexual tension between these two.
There is mystery that has continued on from the first book
Wicked Intentions
that will continue along through the other books in the series. I think it would be best to read this series in order, although, each book does stand alone. I can't wait for Silence's book. Really, I was a little disappointed that there wasn't more of Silence in this book, but there was just enough of a teaser to get me really hungry for the next book.