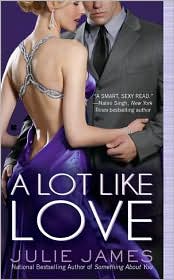 Title:
A Lot Like Love
Author:
Julie James
Publishing Date:
March 2011
Genre:
Contemporary
Rating:
A
Sensuality:
Hot
Book Disclosure:
I purchased a new copy.
Jordan Rhodes, the daughter of a billionaire and the owner of a Chicago wine store has been asked by the FBI to participate in taking down one of Chicago's notorious businessman. The FBI uses Jordan to infiltrate an exclusive charity event where they will have access to a crime syndicate's office. Only things don't go as smoothly as planned and Jordan and FBI agent Nick McCall spend more time together than they bargained.
Woo hoo!! Julie James does it again!! A Lot Like Love is another brilliant contemporary romance by Ms. Julie James. Jordan and Nick explode onto the pages with their clashing personalities and witty banter. This couple exudes sexual tension. Nick is a hard-nosed cop who exudes testosterone from every pore. Jordan bumps elbows with the socialite crowd of Chicago and knows her way around fine wine. These two are as opposite as they can get and yet the attraction is magnetic.
This is Ms. James first novel where the heroine is not a lawyer. Instead Jordan is an entrepreneur owning her own successful wine store. James rocked her new heroine. I loved all the little snippets about wine and the fun that comes along with owning your own business. There is great dialogue and a slight mystery to the book. I thought this was a really fun read!