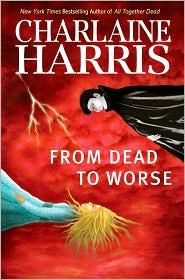 Title:
From Dead to Worse
Author:
Charlaine Harris
Publishing Date:
2008
Genre:
Urban Fantasy/Mystery
Rating:
C
Sensuality:
Subtle
Book Disclosure:
I listend to an audio book that I downloaded from my library.
From Dead to Worse
is book 8 in Charlaine Harris's Southern Vampire Mystery series. Sookie Stackhouse, a waitress for a Louisiana bar, finds herself in the middle of a werewolf war. There is actually quite a few plots going on in this installment of the series and somehow Sookie ends up in the middle. Sookie's boyfriend Quinn has gone missing and Sookie isn't sure what to do about it. Jason insists on involving Sookie in his life with the shifters. Sookie doesn't want anything to do with any of it, but she is involved anyway.
From Dead to Worse
felt like a very transitional book in the series. There were a lot of little subplots without there being a major one. This book felt like the author had to tie up some loose ends before she could move on in a new direction. I am interested in seeing where the author is going to go with the series. However, Ms. Stackhouse needs to pull her head out her butt!
I have to say, I was not overly thrilled with this book. Sookie was getting on my nerves with her incessant whining. I have noticed before in other books, but this one really takes the cake. The hair that broke the camel's back for me was how she treated Quinn. It really pissed me off. Don't worry; I am not going to give away spoilers or anything like that. I am just going to leave it at that. I did
NOT
like how Sookie reacted or handled that situation. Of course, I am going to continue with the series, but this is my least favorite of the bunch thus far.