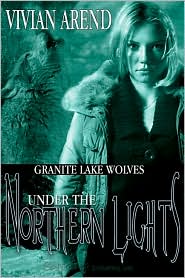 Title:
Under the Northern Lights
Author:
Vivian Arend
Publishing Date:
2010
Genre:
Paranormal
Rating:
C+
Sensuality:
Hot
Book Disclosure:
I purchased a new copy.
Under the Northern Lights
is actually two books in one. Both the first two stories in Vivian Arend's Granite Lake Wolves series are included in this book. The first book is
Wolf Signs
which the story of Robyn Maxwell, a deaf woman who meets Keil, a local wolf shifter who is next in line for Alpha of his pack at a secluded cabin in the woods. Robyn is a wolf and Keil's mate, but she doesn't know it. She was adopted and hasn't learned her past heritage.
The second story
Wolf Fight
features Robyn's brother Tad who is a wolf but can't shift. Tad was never able to forget the girl from high school who moved away. Missy reenters Tads life and the sparks pick up right where they left off all those years ago. Tad forms a bond with Missy to protect her from her past.
Under the Northern Lights
was a quick and easy read. The characters were likable. I thought Robyn was interesting in that she was deaf but still a strong, determined woman. If she set her mind to do something, nothing was going to stop her. The book was on the short side for my taste. I felt the pack dynamics were lacking and I would have liked to see more depth to the world building and characters. I did like that a lot of the book was action driven. It made for a quick read.