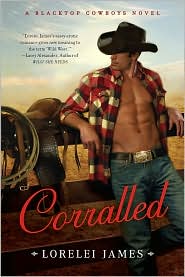 Title:
Corralled
Author:
Lorelie James
Publishing Date:
2010
Genre:
Contemporary Erotic
Rating:
B+
Sensuality:
Burning
Book Disclosure:
I received a free, signed copy from the RT 2011 Book Convention.
Lainie Capshaw works as a sports therapist for two different rodeo circuits. She has had a physical relationship with two men, Kyle who is bull rider and Hank who is a bull fighter. Lainie's problem is that she can't seem to choose between either man and neither has asked her to be exclusive. But then on accident both men end up at the same bar as Lainie, on the same night and the gig is up. However, since Lainie won't choose and they don't want to lose her both men agree to share her.
I have to say
Corralled
really surprised me, and in a good way. I found it to be one of the most realistic takes on how people would really behave in threesome situation. It actually tackled the issues of jealousy between the men over Lainie's attention and affection. The ending surprised me. It wasn't what I expected to happen. I am not really sure I had any expectations, but it surprised me and I liked it! There is a lot of sex in this book, but to me I felt the emotional connection between the characters was displayed in addition to the physical component to the relationships. This book really worked for me. I am definitely going to be reading more of this authors work.