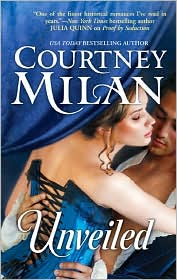 Title:
Unveiled
Author:
Courtney Milan
Publishing Date:
February 2011
Genre:
Historical
Rating:
B
Sensuality:
Warm
Book Disclosure:
I purchased a new book.
Unveiled
is the first book in a new series by Courtney Milan. Ash Turner made a vow to make the Duke of Parford regret the day he refused to help Ash in his darkest hour. Several years later that vow has come to fruition. He found a way to obtain the title for himself and make sure his brothers will never want for anything again. In Ash's quest for revenge, he didn't think about how his revelations would hurt the Duke's family, most especially his daughter Lady Margaret. When Ash comes to claim the manor, Margaret hides her identity behind a position as her father's nurse. Margaret's loyalties are tested when she finds herself falling in love with Ash.
Unveiled
is my first Courtney Milan book, brought to my attention by my lovely friend Delilah Marvelle. After reading the book I can see why Ms. Milan is fast becoming a Diva of Romance. Let's first start with the characters. Ash Turner is a strong capable man, a man's man who is a little rough around the edges, but who hides his vulnerabilities deep inside. Margaret is an incredibly strong-willed woman uncertain of who she is and how she fits into the world. I loved that both characters were well balanced with strength and vulnerability and that they grow throughout the story.
Unveiled
has a lot of depth to the story and a lot of angst. The situation for Ash and Margaret to fall in love is fraught with landmines all around it. I thought the book started out a little slow. The characters and plot were slowly being built up. However, it is well worth the wait. The writing is very picturesque and beautiful. There is plenty of angst, but I would like to classify it as a more modern angst. It is not like old school romances. Where the characters' situation is what creates the angst, but the characters themselves act with forethought and a maturity that 80s romances lacked. I liked it. Ms. Milan is definitely on my radar.