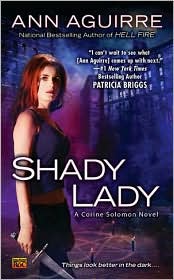 Title:
Shady Lady
Author:
Ann Aguirre
Publishing Date:
April 2011
Genre:
Urban Fantasy
Rating:
B+
Sensuality:
Warm
Book Disclosure:
I purchased a new book.
Shady Lady
is the 3rd book in Ann Aguirre's Corine Soloman series. Corine Soloman narrates this book in the first person. Corine is a handler, which means that she can sense an object's history when she touches it. Corine in the past couple of books has become an enemy of a very powerful cartel near the Mexican border. She finds herself teaming up unexpectedly with Kel Ferguson. Without his help, she likely wouldn't live long with the Montoya cartel after her.
Wow.
Shady Lady
really surprised me. This book was quite a bit different from the first two books in the series. Corine is still the same... well maybe she has grown from the first book. Actually, now that I think about it, she has definitely grown as a character. I was just surprised at the direction the series is taken. I didn't really envision this. However, just because I didn't envision it, doesn't mean I didn't enjoy it, quite the contrary. I found this installment to be quite enjoyable and thrilling. Oh and can I say, I just adore her little dog, Butch?!
I really like the world building that Aguirre has created in this series. It is still very much our world with a supernatural touch that feels eerily believable. For romance fans, Corine is in self discovery mode and has yet to understand her appeal to the male gender or who she wants permanently in her life, as far as love goes. I felt that this book was very transitional as far as romantic entanglements for Corine. I have my own personal bias about who Corine will end up with romantically, but at this point it looks like nothing is set in stone. I am enjoying this series. I am along for the ride and am definitely interested to see where things go.