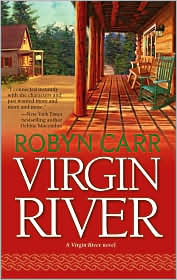 Title:
Virgin River
Author:
Robyn Carr
Publishing Date:
2007
Genre:
Contemporary
Rating:
A
Sensuality:
Hot
Virgin River
is book one in Robyn Carr's Virgin River series. Melinda Monroe needs a drastic change in her life. When she sees and add for a Nurse Midwife in the tiny mountain town of Virgin River, she jumps at the chance. Melinda's husband died less than a year ago. They both worked in the ER for a large hospital in Los Angeles. She has been a city girl all her life. After she gets one look at the cabin she is supposed to live in, Mel wants nothing more than to high-tail it the heck out of there. Only the next morning someone leaves a newborn on Doc's front porch. She vows to stay until someone can take the baby. After she stays on a few weeks the town starts to grow on her and she gradually builds up a friendship with the local bar owner Jack. He was once a marine and has his own demons to battle.
Virgin River
is the heart wrenching story of one woman's struggle to move past the death of her husband and begin to live her life again. Mel is attracted to Jack and enjoys his friendship, but she has so much baggage that she doesn't think she can be what Jack wants in a woman. She feels guilty for having these feelings for Jack when she still loves Mark, her husband. Melinda is one strong woman though and deals with these issues head on. Never did I feel sorry for her. I just wanted her to be happy. Fortunately, Jack is so patient and understanding. He never pushes her and allows himself to be there for her when she needs it. Jack is a wonderful man and he is just what Mel needs to heal.
Virgin River
is so much more than just Melinda's story. The town itself plays a huge role in the book. It almost feels like a character itself. The images Carr paints of the town were all very vivid. I had no problem at all picturing the redwoods and winding roads. There are many interesting characters that live in this town that only serve to enhance the story. Mel's patients, Doc Mullins, Ricky and Preacher, even the bad guy Calvin, all create a wonderful backdrop for Melinda and Jack's romance. I felt very invested in these characters and I hope to see them again.
Here is what others had to say:
Books, Books and More Books
Leslie's Psyche