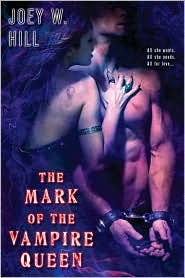 Title:
The Mark of the Vampire Queen
Author:
Joey W. Hill
Publishing Date:
2008
Genre:
Paranormal (Erotic)
Rating:
B
Sensuality:
Burning
The Mark of the Vampire Queen
picks up right where
The Vampire Queen's Servant
left off. Lyssa is sick with an unknown disease that currently has no cure. Jacob her human servant is bound to her, which means when she dies he will too. Lyssa controls the Vampire territory of the Southeastern United States and is one of the most influential members of the Vampire Council. Before she succumbs to this illness, she needs to make sure her Vampires will have sanctuary when she dies. At the next council meeting she plans to bring this issue forth to the council. There are several obstacles that make this next to impossible to accomplish, Carnal a sadistic vampire out to demolish the Council, Jacob's vampire-hunter brother Gabriel, and Lyssa's illness.
This book really pushes the envelope, so to speak. Some of the things in this book made me uncomfortable. I think that was the author's intent, though. One of the aspects to Lyssa and Jacob's relationship is that they would both push the boundaries on what they were comfortable with. Lyssa would push Jacob to do things sexually that he normally would never think to do, nor imagine that they would arouse him as they do. In turn, Jacob would make Lyssa realize how much more her heart and soul was involved when having sex with Jacob. She was much more deeply involved with him than she has ever been with anyone else. So this was a very interesting dynamic to read.
I felt the pacing of the first half of the book was a little slow. Halfway through when Jacob and Lyssa attend the council meeting things really begin to pick up. When it came time for the climax of the story, I was hanging onto the edge of my seat. It was very intense, as there was a lot to take in and alot for the characters to deal with. I was surprised at the range of emotions I went through and came to realize that I had connected to Jacob and Lyssa. I definitely want to continue with more of this series. I think Joey W. Hill is one of the better erotic romance authors I have read.
Here is what others had to say:
The Good, The Bad, The Unread
Dionne Galace
Bitten by Books
Whipped Cream