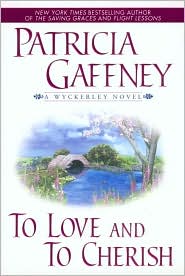 Title: To Love and To Cherish
Author: Patricia Gaffney
Publishing Date: 1995
Genre: Historical
Rating: C-
Sensuality: Warm

To Love and To Cherish is the first book of my Classic Romance Challenge. I have previously read To Have and To Hold, the second book of The Wyckerley Trilogy. I really enjoyed To Have and To Hold and I was very anxious to read Christy and Anne's story, since they make an appearance in the sequel. I cringe to say it, but I really didn't like this story.

Christy Morrell is the vicar for the little village of Wyckerley. He grew up in the village and his father was the vicar before he followed in his footsteps. Geoffrey, Christy's best friend from childhood, has come home just as his father dies; which leaves him to become the new Viscount D'Aubrey. Geoffrey is a very sick man who has lost so much weight that Christy barely recognizes him. Geoffrey wants to go back to war and cares nothing for his new role as Lord of D'Aubrey, leaving Anne his wife of four years all by herself. Before he leaves, he asks that Christy look after his horse and his wife. While Geoffrey is away, Anne and Christy cultivate a friendship.

I really struggled to finish this book. The pacing of the story is s-o-o-o-o-o s-l-o-o-o-w-w. I wanted to yell, "Get on with it already – Sheesh!" I was literally about to give up and stop reading the book for good when the poop decided to hit the fan, and this wasn't until about 300 pages into a 370 page book. So, I pretty much slogged through the first 300 boring pages for 70 pages worth of good stuff; not a very well balanced book.

A good part of the story is told through Anne's diary. That was one reason why the book was so boring, because you were told the story rather than actually living it. Another point is that Anne and Christian themselves weren't the most exciting people. Don't get me wrong; Christian was a wonderful person. He actually would be the kind of person you would want to take home to your parents in real life, (instead of the macho, alpha male). I just found him to be a little too "perfect". Come on, make a mistake already! I thought that the author had a lot of potential with this story and she didn't take it where it could have gone.

On the positive side though, those last 70 pages are beautifully well-written. There is one scene in the mine shaft that was especially riveting. It stole my breath away and brought tears to my eyes. That one scene was enough to drive this review from a D to a C. It's such a shame that I wasn't able to like the book more.