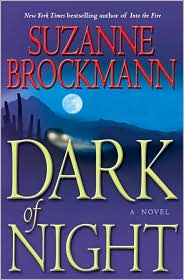 Title:
Dark of Night
Author:
Suzanne Brockmann
Publishing Date:
January 2009
Genre:
Romantic Suspense
Rating:
A
Sensuality:
Hot
There has been a lot of controversy surrounding Ms. Brockmann's 14th book in her vastly popular Troubleshooter series,
Dark of Night
. Now I'll be honest, I did not pay attention to all the discussions about this book. I didn't want to read any spoilers, inadvertent or not. Many reviews have been posted and the majority all disclosed spoilers. I hate spoilers. I really do. So, this review will be
SPOILER FREE
. The only plot summary I will give, will come from the cover blurb on the book.
A very shady government organization known as The Agency has come after James Nash nearly killing him. An opportunity arose to fake Nash's death and Lawrence Dekker took it. Only a small handful of people know that Nash is alive and Dave and Sophia aren't among the elite. Dave and Sophia in their grief over Nash's death turn to each other for comfort and their relationship moves from that of friends to lovers. Dave is attacked by a man that results in a knife injury. Dave believes that the attack has something to do with his past. Nash knows that it actually has something to do with him and The Agency. Now, people who Nash cares about are in serious danger. The troubleshooters will team up to put an end to the threat.
Dark of Night
is classic Brockmann. There is fantastic dialogue, realistic multi-faceted characters, acute attention to detail, and non-stop, intense action. One of the reasons why I love this series so much is how the characters evolve throughout it. Real people are constantly changing and evolving and her characters do too. The characters become so real to me, I wonder that they aren't actual people. She is able to convey this realness in her attention to detail. There were so many scenes that were peppered with little nuances and references that paint such a vivid picture.
I know a lot of fans of this series were very worried over the Dekker/Dave/Sophia love triangle aspect. All I will say about this is that readers should trust Brockmann. If you have been a fan of the series up until now, then trust her to tell the story the way she believes it should be told. I did and I am very satisfied.
I am sure there are some readers out there who haven't started this series. Just to prove how confident I am that you will be entertained by this book, that I recommend just jumping in and start with this one. You won't be lost at all. Instead, I think you will be so entertained by the story and the characters that you will want to go back and read the other books, so as to find out all you can about them. Because for me, after having read
Dark of Night
, I now want to go back and read through all the other books again. That's just my two cents, for what it's worth.
Here's what others had to say:
Book Binge
Randi Romance Reader
Thrifty Reader
Good Books, Bad Books
Nobody Asked Me
I Just Finished Reading
Dear Author