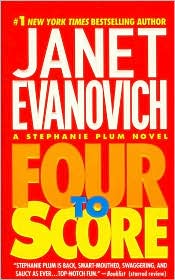 Title:
Four to Score
Author:
Janet Evanovich
Publishing Date:
1998
Genre:
Mystery
Rating:
A
Sensuality:
Hot
Four to Score
is the fourth book in Janet Evanovich's Stephanie Plum bounty hunter series. Stephanie is looking for a local waitress who skipped out on her court appearance after stealing her boyfriends car. It seems like a simple apprehension, yet people start losing body parts and things get ugly. Stephanie has a crazy killer after her and moves in with Joe Morelli after her apartment gets blown up. Life is never dull with Stephanie, Grandma Mazure and ex-hooker Lula on the case.
Yay!!! Stephanie and Joe finally move forward with their relationship. Whoohoo!! I think
Four to Score
is the best book so far in the series. Stephanie has a new member on her wacky team Sally Sweet, a cross-dressing puzzle solver. He is a laugh a minute. He might just be my favorite character yet. Ranger was fairly quiet in this book. He only had one appearance when he calls in a favor from Stephanie. The mystery was all over the place this time and there were several different threats coming in all different directions. I don't know how realistic this series is... gun-toting grandma's and all, but it sure is entertaining.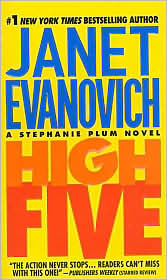 Title:
High Five
Author:
Janet Evanovich
Publishing Date:
1999
Genre:
Mystery
Rating:
B+
Sensuality:
Kisses
High Five
is book five in Janet Evanovich's Stephanie Plum bounty hunter series. Stephanie has bills to pay, but no one seems to be jumping their bonds. She decides to diversify and goes to work for Ranger. Also, her Uncle Fred is missing and her Aunt and Mother want her to try and find him. Stephanine and Joe are at a standoff. Joe doesn't want to get married and Stephanie knows that what a man can get for free, he won't be paying for.
High Five
is more of the same kooky, crazy, never a dull moment shenanigans. I don't know how Stephanie manages to get in the scrapes she does, but it happens all the same. All of these antics are highly entertaining, yet extremely unbelievable. That doesn't really bother me, because this book is a great big escape. And even as unbelievable as the happenings in this book are, the characters are richly drawn. Every last one of them. I was disappointed that Sally Sweet wasn't in this book, but we get to meet Bunchy the bookie and Randy Briggs, a little person. Ranger steps up to the plate and let's Stephanie know he is more than interested in her, but the ball is in her court. When this book ended, I wanted to scream. The mystery was wrapped up, but her personal life was not and it ended in a HUGE cliff-hanger. Thank God, I don't have to wait a year to read
Hot Six
!
I am loving these books!