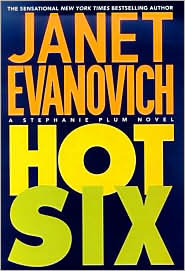 Title:
Hot Six
Author:
Janet Evanovich
Publishing Date:
2000
Genre:
Mystery
Rating:
B+
Sensuality:
Kisses
Hot Six
is book six of Janet Evanovich's Stephanie Plum bounty hunter series. In this book Stephanie teams up with vice-cop/boyfriend Joe to find Ranger. Ranger was Stephanie's mentor when she first started her bounty hunter job. Now she is trying to find him and clear his name because he is the number one murder suspect in the death of a local gun runner. Stephanie has more problems than just finding Ranger, though. Her Grandmother has moved in with her and if that's not enough, she has a couple of goons following her around.
After the huge cliff-hanger that ended book five, thank God book six was already published and I could start reading it right away. I don't know how fans would have lasted a year between books. I would have been so mad if I would have had to wait. Anyway, on the review. Basically, this one is more of the same from Stephanie and the gang. This time readers are introduced to Mooner and Dougie, two stoners who went to school with Stephanie. She also gets stuck with Bob, the dog. There were some pretty funny scenes involving Bob. Grandma was in rare form too. I have to say,
Hot Six
was another solid read.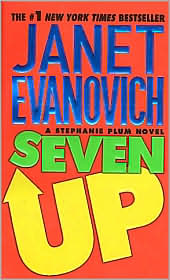 Title:
Seven Up
Author:
Janet Evanovich
Publishing Date:
2001
Genre:
Mystery
Rating:
B
Sensuality:
Kisses
Seven Up
starts about a month after
Hot Six
ended. Stephanie is on the case to bring Eddie DeChooch in after he skipped bail for trafficking stolen cigarettes. Eddie turns out to not be such an easy catch. He keeps just one step ahead of her, even though he's her Grandmother's age. He a crazy old coot and Stephanie is getting tired of him shooting at her. Dougie and Mooner go missing and Stephanie knows that something else is going on. Valerie, Stephanie's sister come to the Burg for a visit.
I am beginning to see a pattern developing. Each book in the series has a self contained mystery. A new character or two to add to the zany chaos that always surrounds Stephanie and then the book ends at a big cliff-hanger regarding Stephanie's love life. While I do enjoy the silliness and crazy antics of Stephanie and the gang, it might not be such a good idea to read four of the books back to back. Grandma and Bob, the dog are still cracking me up. There were some pretty funny parts in this book, typical of Evanovich's style. Stephanie's relationship with Ranger and Joe is starting to get complicated and I can see why fans want some sort of closure. Now it looks like it is going to get messy and again the book ended on a big cliff-hanger. I am going to wait at least a week before I start on book eight.