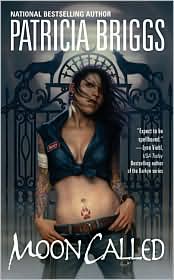 Title:
Moon Called
Author:
Patricia Briggs
Publishing Date:
February 2006
Genre:
Non Fiction (non romance)
Rating:
B+
Sensuality:
Kisses
Moon Called
is the first book in a series of books about Mercedes Thompson, a walker or "skinwalker". She can change into a coyote and has some of the physical attributes that come with it, such as advanced hearing and smell. This is different from a werewolf. In Mercy's world, it is very similar to ours today with one big exception, it is inhabited by werewolves, vampires and various Fae, such as witches, gremlins and trolls. Mercy was raised by werewolves in Montana and has been around them all her life. Now she is a VW mechanic and has the local Alpha werewolf for her next door neighbor.
This is Mercy's story and it is told in first person from her point of view. I like stories told in the first person. I don't mind being privy to only one person's thoughts. I like the mystery of figuring out, by reading through other peoples' body language, what the other characters are thinking. I like the subtlety with which I am told the story. Mercy's voice is an enjoyable one. She seems like your normal average woman, with the exception of her walker abilities. She doesn't have super human strength. She has problems with her mom and she had heartache when she was a teenager. She is a likable person without any kind of attitude or chip on her shoulder, although she gives out sarcasm in small doses. She likes to help people and is a nice person without coming off as sickeningly sweet.
There are two possible love interests, maybe three, in this story. First there is Adam, her next door neighbor and the local Alpha and then Samuel, her former boyfriend and son of the Alpha of the pack who raised her. Stefan, a local vampire, with whom she is helping restore an old VW van. I have a feeling he wants to be in the running as well. So Mercy is a popular girl and everyone can't help but like her. The world building is good and we are just starting to learn the characters through Mercy's eyes. We get to learn all about the werewolf culture and solve a mystery to boot.
Moon Called
is wrapped up at the end with no devastating cliff-hangers. I am curious to see where Briggs will go next with Mercy's story.
Here is what others had to say:
Best Fantasy Stories
Tempting Persephone
Smoldering Ink
Dear Author