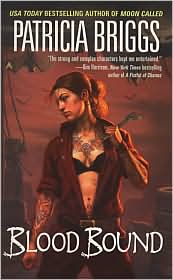 Title:
Blood Bound
Author:
Patricia Briggs
Publishing Date:
2007
Genre:
Science Fiction (non romance)
Rating:
B+
Sensuality:
Kisses
Blood Bound
is the second Mercy Thompson novel. The first book
Moon Called
focused on the werewolves in Mercy's world, the second novel focuses on the vampires. Since Stefan (Mercy's vampire friend from
Moon Called
) helped Mercy rescue the local Alpha's kidnapped daughter he has called Mercy asking her for a favor. He wants her to be a witness for him while he investigates a new vampire who has recently arrived in town. Mercy agrees to help him. What they discover is that this is no ordinary vampire, he is a sorcerer possessed by a demon. In other words, he is pure evil.
Mercy's voice is great. I love getting the story through her eyes. She is very matter of fact about things and has just the right balance of sarcasm without being overly cynical. She has great faith in herself and others. She knows that there is evil in this world, but even when the odds are against her she never gives up.
She still has Samuel, her first boyfriend growing up, and Adam, the local Alpha competing for her attention. So far, she hasn't been able to make up her mind, though, I think she is leaning in one direction. It is interesting to see her struggle with her feelings for both men. Who will she choose? If it was me I would have a tough time deciding because both are dominant men who want nothing more than to protect Mercy. Yet it seems Mercy is the one who does the rescuing – at least in this story. I can't wait to read the next installment of this series.
Here is what others had to say:
The Reading Spot
Avid Book Reader