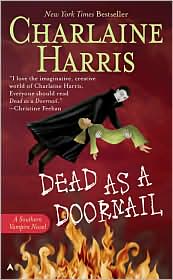 Title:
Dead as a Doornail
Author:
Charlaine Harris
Publishing Date:
2005
Genre:
Paranormal/Mystery
Rating:
B+
Sensuality:
Subtle
Book Disclosure:
I recieved a new copy as a gift from a friend. (My friend is not connected the book industry).
Dead as a Doornail
is the 5th book in the Southern Vampire Series by Charlaine Harris. A sniper is at large in Sookie's small town. The victims of the shootings all have one thing in common, shifter blood. One of Sookie's own family members is in danger, as well as her good friend Sam. She plans to uncover the shooter's identity before any more people get hurt, but as usual Sookie finds herself the one in need of help.
This series just keeps getting better and better. I am really having a hard time deciding on which book is my favorite so far. The world building is very good and keeps getting more and more interesting. There are more characters and new supernatural creatures that are being introduced. What's up with the fairies? That is what I'd like to know!
From a romance standpoint, I want to know what direction the series is going to go in. Sookie has about a half-dozen men vying for her attention. It makes me really curious as to who Sookie is going to choose to be her beau. At this point, I am not really sure who I am rooting for and I suppose that Sookie feels the same way. I do hope that she is going to get her happy ever after at some point, though.
Here is what others had to say:
I'm Booking It
Reading With Tequila
World According to Books
Read React Review
This book can be purchased in print or kindle format from
Amazon