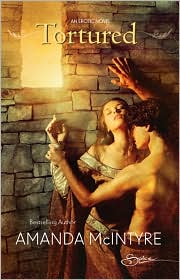 Title:
Tortured
Author:
Amanda McIntyre
Publishing Date:
2009
Genre:
Historical (Erotic)
Rating:
B-
Sensuality:
Hot
Book Disclosure:
I purchased this book new.
Tortured
takes place during the Dark Ages after the Romans pulled out of Britannia. Sierra works as an apprentice to an executioner. She was forced to this position as a twelve year old after she witnessed the rape and death of her mother. Six years have passed and Sierra has managed to survive by take each day at a time. When her master has captured a rebel soldier, he orders Sierra to work him over for information. Only Sierra is drawn to Dryston and they formulate a plan to escape.
I picked out this book because Amanda McIntyre will be at the RT Convention this year and also because it was set in a time period other than the standard Regency that is so prevalent today. I will admit I was a little worried that there would be too much written about the torture. Plus, this book is published by the Harlequin Spice line and it is an "Erotic Novel" and that means I might not get my happy ever after. Fortunately I needn't have worried. Although, the reality of life was very hard back then, the author didn't dwell on it and managed to balance the dark with the light.
I really thought that the author did a good job with making the characters ring true to the time period. The reader will feel like they have traveled back in time. The political upheaval made for very desperate and uncertain times. The reader will feel the characters desperation, yet underneath is a sense of longing and hope.
I did have some problems with
Tortured
. Sierra has learned that in order to survive she has to contain her feelings. To reveal them might be her death. It would have been nice to see Sierra really break through these emotional bonds, especially by the end of the story. When Sierra goes back to confront her captor with all the animosity she felt towards him, the ending seemed anti-climatic because Sierra never really loses control emotionally. Also, I never really bought into the passion between Sierra and Dryston. I felt like something was missing and this could again lead back to Sierra's emotional disconnection.
Here is what others had to say:
Rebyj's Reading
All I Want and More
Cheeky Reads
Romance Book Wyrm
This book can be purchased in print or kindle format from
Amazon
.