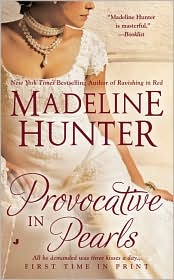 Title:
Provocative in Pearls
Author:
Madeline Hunter
Publishing Date:
March 2010
Genre:
Historical
Rating:
B+
Sensuality:
Hot
Book Disclosure:
I purchased a new copy.
Provocative in Pearls
is the second book in Madeline Hunter's Rarest Blooms quartet. The Earl of Hawkeswell has been living in limbo for two years ever since his Bride disappeared on the day of their wedding. Some of her things were found in the Thames and it is thought she must have drowned. Verity ran away after she was betrayed by her cousin. She assumed Hawkeswell was in on it since he was only marrying her for her money. Hawkeswell finds Varity at The Rarest Blooms on a chance visit. Now these two must move forward and learn to reconcile their differences.
I really am a sucker for Madeline Hunter's writing style. Her books seem more cerebral, yet still balanced with plenty of external conflict. Verity and Hawkeswell are very compatible in bed, but their relationship needs work in other areas. Hunter is not afraid to use physical intimacy as a way to bring her main couple closer. Hawkeswells' journey from lusting after Verity to falling in love with her is truly delightful. This evolution is believable because it happens within a reasonable time frame.
Verity was easy to like. She has a quiet strength that clearly impresses Hawkeswell. I liked that she eventually came to terms with her marriage and stopped running from it. There were plenty of opportunities for sheer stubbornness, but common sense ruled. Hawkeswell was just a great a character. Although, I do feel that I learned less about him than I did Verity. The story seemed to center around her more. I am really enjoying this series and I can't wait for the other two books.
Here is what others had to say:
Babbling About Books and More
This book can be purchased in print format from
Amazon
.