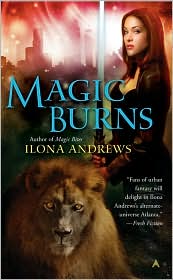 Title:
Magic Burns
Author:
Ilona Andrews
Publishing Date:
2008
Genre:
Urban Fantasy
Rating:
B
Sensuality:
Subtle
Book Disclosure:
Borrowed a copy from the library.
Magic Burns
is book two in Ilona Andrews Kate Daniels series. In Kate's world magic is a part of life, but when magic is up, technology is down. The magic always comes and goes but recently it has been coming more and more frequently and sporadically. These are signs of an oncoming Flare. This could be really dangerous as the type of magical beings gain more power during the Flare. Kate has her hands full as she finds a young girl orphaned and in need of help. Kate has no maternal instincts, but she can't stand to see anyone suffer so she takes the girl home with her and begins a search for the girl's mother.
I have to admit that it had been a few months since I read the first book in this series,
Magic Bites
and I couldn't exactly recall what happened in that book. At least with
Magic Burns
, the reader now gets a better sense of Kate's personality. Told in the first person, Kate narrates the story. I didn't realize it, but Kate is a bleeding heart. I can't exactly call her a sucker, because she isn't. She really is quite the Badass. She would however do anything in her power to protect those she feels are deserving such as the young girl, Julie.
Still the reader is guessing who Kate is and what exactly her powers are. There is a lot of sexual tension between Kate and Curran, the King of the Beasts. I love that the romance is slowly unfolding, but I think some readers might feel things are moving too slow. There is a lot of world building and a lot of descriptions of various creatures. Half of it I could imagine and the other half was beyond me. However, I am enjoying this series and think it's best not to let too much time lapse between books. The reader will definitely benefit by reading the books in order.
Here is what others have to say:
Musings of a Bibliophile
Stacy's Place on Earth
Lurv a la Mode
Ciara Stewart
Dark Reviews
Scooper Speaks
LesleyW's Book Nook
This book can be purchased in print or kindle format from
Amazon
.