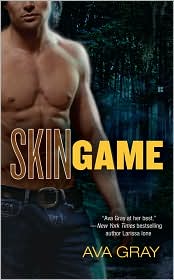 Title:
Skin Game
Author:
Ava Gray
Publishing Date:
2009
Genre:
Paranormal
Rating:
B-
Sensuality:
Hot
Book Disclosure:
I purchased a used copy of this book.
Kyra has a special gift which she has learned to use to her advantage. When she touches a person, whatever that person's talents are get transfered to Kyra for a short while. After her father is savagely murdered at the hands of Gerard Serrano the owner of a casino in Las Vegas, Kyra manages to walk away with three million dollars and Serrano's pride. Serrano hires the hitman Reyes to find his money and kill her. After Reyes catches up with Kyra, he finds that he is unable to complete his job. It seems Serrano lied to him about exactly who Kyra is.
Skin Game
starts off pretty hot and heavy. Right from the beginning the sexual tension between Kyra and Reyes leaps off the pages. The first intimate scene is sizzling. Then these two characters begin a courtship of sorts. Reyes must win Kyra's trust if he is to find out where the money is hidden. This part of the story is kind of sweet how Reyes is willing to take care of Kyra. But, Reyes is hiding exactly who he is from Kyra most of the story. This leads to that oh so annoying "big misunderstanding" that is quite common in romance novels. Eventually, this leads to a bit of frustration for the reader at the end of the story because Kyra should have known the truth based on Reyes actions. This made the ending's pacing drag.
One thing that I found surprising was the level of violence in the book. It's definitely not for the faint of heart. Kyra's level of vindictiveness gave me pause more than once. It made me more than a little uncomfortable. There is a secondary romance between Kyra's best friend, Mia. She has her own story out this summer in Skin Tight. Be sure to be on the lookout for that. Even though this book had its share of problems, I will be getting Ava Grey's next release.
Here is what others had to say:
Leontine's Book Realm
Smexy Books
Book Binge
Alpha Reader
The Book Vixen
Colleen's Reads
Janicu's Book Blog
Nobody Asked Me
Smokin Hot Books
Fiction Vixen Book Reviews
Stacy's Place on Earth
This book can be purchased in print or kindle format at
Amazon
.