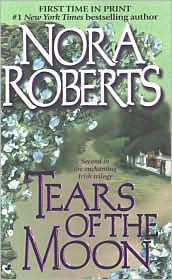 Title:
Tears of the Moon
Author:
Nora Roberts
Publishing Date:
2000
Genre:
Contemporary (with a small paranormal element)
Rating:
B+
Sensuality:
Warm
Book Disclosure:
I purchased a used copy of this book.
Brenna O'Toole has been in love with Shawn Gallagher since she was a young girl. They grew up together and have always been the best of friends. Brenna decides that she is going to finally take the bull by the horns, so to speak. She tells Shawn she wants to have sex with him. She thinks that by having sex she'll be able to get him out of her system and move on with her life. She shocks the hell out of Shawn, but after he's gotten used to the idea he begins to court Brenna himself.
Tears of the Moon
is the second book in Nora Robert's Irish Trilogy. The book takes place in modern day Ireland. I have to say that this is one of Robert's better books. The characterization just blew me away. Brenna and Shawn will live in my memory long after finishing the book. Brenna is very independent with a lot of drive and fierce determination. Once she knows what she wants, she goes for it. She is not afraid to state her feelings and tell people exactly what she is thinking. Shawn is much more subtle in his actions. He is quietly content to live in the moment, stop and smell the roses. Both are very strong in their convictions, yet how they deal with people is very different. The reader will easily see how well these two compliment each other's personalities.
The story is completely focused on the romance between Shawn and Brenna. That's not to say there isn't other stuff taking place in the book, because there is a large cast of characters. Most of them make up Shawn and Brenna's family and they play a large role in bring Shawn and Brenna together. For those readers who enjoy family relationships as well as friends to lovers theme, won't want to miss this one! If you missed my "Guess the Book" post earlier, you might want to check it out for a fun
passage
!
Here is what others had to say:
Thrifty Reader
This book can be purchased in print or kindle format from
Amazon
.