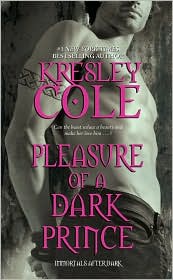 Title:
Pleasure of a Dark Prince
Author:
Kresley Cole
Publishing Date:
February 2010
Genre:
Paranormal
Rating:
B
Sensuality:
Hot
Book Disclosure:
I purchased a new copy.
Pleasure of a Dark Prince
is the seventh full length book in Kresley Cole's Immortals After Dark series. I have waited a really long time for Garreth and Lucia's story, so long in fact that I almost forgot about this couple. See, these two were sequel bait in the first book
A Hunger Like No Other
. It seemed for a long while there that they were never going to get their story and then bam,
SURPRIZE
.
Lucia made a pact with a Goddess as she was dying. The deal was Lucia would live to become the greatest archer of all time in exchange for her chastity. Lucia was happy to give up sex, as her first experience at the hands of a demon was a horrible one. Centuries later however, this deal comes back to haunt her as Garreth MacRieve stirs her blood as no man has before. Garreth is a werewolf. Werewolves are mated for life to only one woman. Lucia is his mate and he wants so very badly to claim her but because of her vows she won't let him. And if that isn't enough, add to the mix a mission to kill an evil God before he is let loose on the world.
Pleasure of a Dark Prince
has all of Kresley Cole's signature components fans of this series are familiar with. You have the very independent, modern heroine and the fiercely determined hero who will stop at nothing to win his woman's heart. Add to that the impossible conflicts surrounding their relationship which leaves the reader on pins and needles wondering how everything will work out in the end. Along the way are plenty of laughs and snappy dialogue.
I am a huge fan of this series. However, I feel that it is losing its edge. I just have to wonder to myself, "Where is this series going?" I have felt that with the last two books there doesn't seem to be defined focal point. Things are starting to get vague and now the series timeline is overlapping. I guess I wish that there would be more focus on things leading up to the Accession. Although, there was some major sequel baiting in this book, with major conflicts ramping up. I just hope Cole knows where she is going with this.
Here is what others had to say:
Books, Books and More Books
Impressions of a Reader
Smokin Hot Books
My Reading Addiction
Book Binge
That's QUEEN Bitch To You
Babbling About Books
This book can be purchased in print or kindle format from
Amazon
.